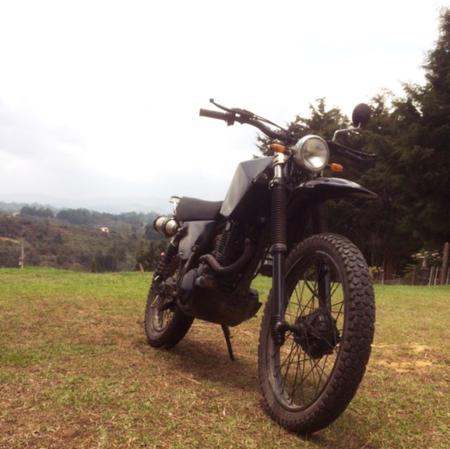 Aanvang week vier: La Negra, roepnaam voor m'n XT500, bouwjaar 1977, geheel in zwarte verf gedoopt, heeft nog steeds moeilijkheden. Op terugweg uit Medellín, zaterdagavond bijna twaalf uur, laat om nog te reizen, geen probleem denk ik 'de weg is verlicht en ken ik op m'n duimpje', komt tot twee keer toe de motor stil te staan in het midden van nergens. Geen pretje. Gedruppel van boven is overgegaan in regen. Na enkele minuten start de motor direct, en enkele kilometers verder sta ik opnieuw stil. Tegen de berg op.
Wat een desillusie. La Negra was een frame op wielen en een los gedemonteerd motorblok toen ik haar kocht. Het idee leek me goed, een voor mij bekend motortype kopen, laten opknappen om dan als 'nieuw' de jungle, het Colombiaanse achterland en verder mee in te kunnen reizen. En nu, na talloze problemen (later meer daarover) en twee-en-een-halve week sleutelen, verkopen? 'La Negra es la mas grande puta en el mundo de las motos', behalve het chassis en het motorblok is niets origineel Yamaha of XT500, onderdelen van Kawasaki, Suzuki, AKT, Kymco en andere types Yamaha. De motor is daarmee allesbehalve origineel en meer een concept zoals ik voor me zag om mee op pad te kunnen gaan. Verkopen van iets dergelijks is lastig, wie wil zoiets? En dat betekent een heel fors verlies nemen. Daar hou ik niet van, dat wil ik niet. Ik ben met de motor een weg ingeslagen en kan daar moeilijk van afwijken. Alleen dat al voelt echt slecht.
In de loop van de week lossen de zaterdagnacht problemen zich op: slechte, vervuilde benzine, een benzinetank met vuil en een goedkoop, te klein, papieren benzinefilter en dàt, met een (te) grote carburateur voor de motor in een rit tegen de berg op van ruim dertig kilometer, kortom een grote carburateur die slurpt door een te klein filter dat verstopt raakt door vuil uit benzine en tank. Dat van de tank wist ik, de benzinekwaliteit was ik vergeten en benzinefilters zijn voor grote motoren (alles boven 250cc) slecht te krijgen. Ik ga op zoek en vind er twee. Van Barbas neem ik een tweedehandse af en een andere monteur verkoopt een zelfde Amerikaans filter, beide met een grotere doorlaat, niet van papier maar een dun aluminium. La Negra regeert enthousiast. Het duurt weer een paar dagen maar dan lijkt het alsof ook de carburateur eindelijk haar rustpunt heeft gevonden. De grote Mikuni carburateur (38mm) is een monster om af te stellen, een overgevoelig kreng. De omstandigheden maken het niet makkelijk; een hoogte verschil tussen 3.000 en 1.000 meter, een temperatuur die varieert tussen 18 en 34 graden, ijle berglucht versus oververhitte, dikke vol van uitlaatgassen vergeven stadslucht en dat in combinatie met een matige, wisselende benzinekwaliteit.
Een week verder. Ik ben vier weken in Colombia en voor het eerst gaat de XT het achterland in. Via Medellín, Barbosa naar Cisneros, een pueblo (dorp) in een dal op drie uur rijden. Voor het eerst ook lijkt La Negra zich te schikken in haar lot als reismotor. Nu ik meer vertrouwen krijg in de motor valt er een Plan te maken.
Te weinig tijd en mogelijkheden om de motor hier vandaan op luchttransport te zetten, niet naar Buenos Aires of niet elders. Wat nu? Een rondje Amazone? Colombia tot in de uithoeken?
Mike uit Cali brengt me op een pad. Voor hem haal ik op 1 mei een motor op in Lima, Peru. Voor de verhuur moet die op 8 mei terug zijn in Cali, Colombia. Acht dagen voor drie landen, Peru, Ecuador en Colombia, inclusief dus de papieren rompslomp van de grensovergangen. Inclusief de woestijn van Peru en de hoogte van Ecuador. Ik heb niet veel tijd nodig om hierover na te denken. Ik ga er voor.
Daarna? Aan La Negra valt nog het nodige te doen. Mijn verwachting is positief en daarmee valt de keuze op een groot rondje Colombia. Nu eerst de eigendomsprocedure af zien te ronden.