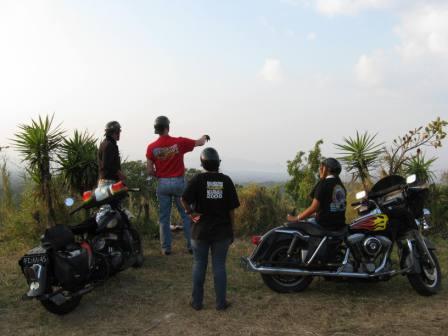 Granada, Nicaragu, april 2nd 2009
I have a hard time finding a hotel in Granada, no place to park my bike properly, or too expensive or just plain unfriendly. I almost decided to got to Managua, it´s still early so I gan get there in daylight, as I see a Harley parked in one of the small streets opposite to a hotel. The girl at the reception assures me of a good parking spot and the room is fine.
In the evening I meet the guy who owns the hotel and Harley. ´Jimmy three fingers´ is an entrepeneur pur sang and I inmediately warm up to him. There are 37 Harley´s in Nicaragua and number 38 and it´s owner are killed a few weeks ago on one of the roundabouts in Managua. Jimmy organises a remembrance evening for the guy, that means I just can´t leave before that date.
At the day of the remembrance the evening is called off due to an upcoming Harley weekend in Guatamala where 8 riders are headed for. So we decide to hit town, with the bikes. Well, it sure turned out to become an unforgettable evening. After a few drinks in one of the best bar´s I´ve seen since Oakland, Zooms bar, we go down to the lake. In the old ´complexo turistico´ it´s quite in the open air discotheque. Jimmy drops me at a table with 5 gorgeous ladies after an introduction and donation of a family size beer bottle. I love it, but honestly I´m tired and with just one drink too much it´s better to go home, I think. ´All right´. Coming from the washroom I notice there´s a fight going on between my table ladies. I manage to get them out of each others hair (amongst other body parts) and walk up to my bike. Jimmy is already out there. Betsy won´t start. One of the spark plug cables turns out to be loose. An easy fix, Betsy starts inmediately and I leave first. At the end of the street I still don´t see Jimmy. Even after counting to 10 he´s still not at my back, so I go back. Upon returning I see Jimmy trying to unknot an even bigger group of ladies who are assembled, fighting, around his bike. I go over, turn my bike and I see out of the corner of my eye one of the ladies crawling under a pile of fighting ladies, running towards me and she just jumps on my back fender. I hit it and this time Jimmy is right behind me. At the end of the street we decide we just can´t leave the girl. So we go to our own place and have some more drinks. It is already light when it is obvious our lady of the night just wants money. Since I took her along, I have to pay which means we manage to get her into a cab and pay the ticket. To Jimmy this whole scene reminds him of a movie in which Martin Sheen declares when he´s interrogated on sexual adventures, ´I paid her to leave´. What a great line to end the evening!