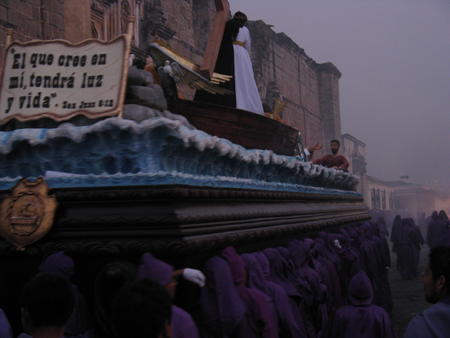 Guatemala Ciudad (city) is huge, three million inhabitants. The city is divided in 11 'zonas', my destination the Harley-dealer is in zona 9. C.O. Jones Motorcycle Company is Guatemala's only Harley-dealer. It wasn't difficult to find zona 9, but after that is wasn't easy. Some fellow motorcyclist brought me over. I wanted to buy some original old-style oil. The last time I bought oil was in Phoenix, Arizona and I'm running low. Mexico has 11 dealers (110  million inhabitants) but not one of them on my route. Unfortunately the agencia has no oil for me. "Do I have some time?" Of course, coffee, enthusiasm, lots of good luck hugs from customers and employees, so I'm happy. After our lunch, Hugo, one of the mecanics goes away on his bike to buy me some oil. Wow, that's great service!
In the afternoon I meet Juan & Sabine, he's half German and Guamaltan and she's full German, they invite me over for what turns out to be a great dinner with close friends of them. Lots of talk in German, English and Spanish about the difficulties of Central America. They are pretty surprised about my staying and working with the Bomberos Voluntarios. I didn't realise that, but the Bomberos are highly regarded for their iron discipline and mentality.
On sunday I run in Antiqua into a procession, Easter is on it's way. Literally hundreds of people are dressed up in purple to accompany a huge statue of Jesus carrying the cross. With all the mirr the streets are filled with smoke. It brings me back into the dark time of the Conquistadores. How nice it is to go with my bike, nicknamed in Holland as a Liberator, to go with my Liberator, El Libertador in Spanish to El Salvador, the saviour. Sounds good, doesn't it?