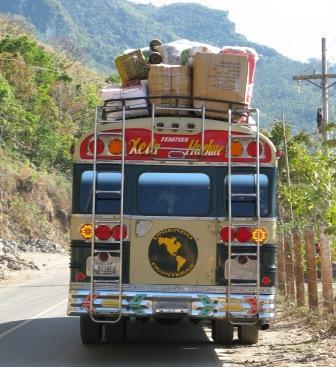 Malacatancito, province Huehuetenango, Guatemala, 19 feb 2009
This is the little village where I am waiting for my parts to arrive. I still sleep at the fire department and can stay there until the work on my bike has been done. I´ve got a little room (storage room) for my own use. I like that a lot because at night is when the work is being done, so working on the dayshift  I do get my sleep. The work is notsomuch on fires but on the ambulance on accidents on the PanAmerican highway. The ambulance service is organised in Guatemala by the fire department. On average they ride out 3 times a night during weekdays and more in the weekends. In daytime I make use of a little old motorcrossbike (Yamaha 175 cc twostroke). The bike is donated, as is every piece of equipment the fire department uses. The parking lot is therefore a strange mixture of brands and years.
Guatemal is a typical mix of new and old, but they have one thing in common, lack of money, or let´s call it poverty. The youth is fashinably clothed, use modern day little motorbikes (made in China and Mexico), make lots of use of the internetcafes and everybody uses a cellular phone. All along the PanAmerican are the transmitting towers to be seen. But that´s it. Houses are mostly of brick, but brick with plates and plates only is also fairly common. In the kitchen there is always a fire burning, three times fresh tortillas are served as a side meal to beans, rice and meat or eggs with beans in the morning. This is a ladies task, as is the laundry. Daily I see them doing the laundry by hand. For water supply you built a plastic tank on top of your house. When the watersupply is working you fill it. Being on top of the house and of black plastic, you also have warm water. One of the problems of a country like this is that there is no structure for the disposal of big garbage. Everywhere you see cars, trucks, buses that aren´t in use anymore, parked next to a house or in the fields. Even next to the policestation I see 3 -absolutely not in any use anymore- policecars parked, waiting to dissolve themselves? In the village I see the blacksmith (there are two of them) working by the old-style fire. The people are mixture of Spanish and Mayan descent, there are some Maya ruins nearby (will visit them in one of the upcoming days).
In the afternoon I mostly go over to Polo. he is the guy who helps me out with my transmission. Every day he asks if the post arrived. Unfortunately not yet, so he continues with, ¿triste o contento? I reply of course with contento. I have a place to stay, good food and nice company, so yes I am happy, but the PanAmerican is there waiting for me to get out again …