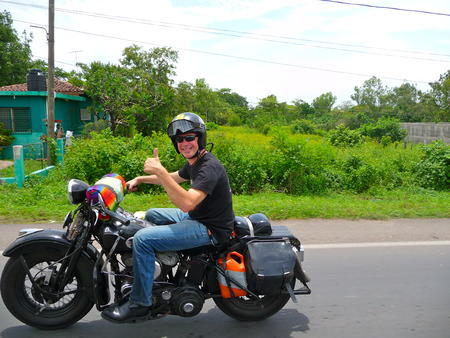 Gouda, 17 december 2010
Ieder die dit leest wens ik fijne feestdagen en een gelukkig nieuwjaar.
Dit zijn met recht de donkere dagen voor Kerst. Ondanks de non-travel-blues hoop ik de komende week het ik het laatste artikel voor BigTwin af te ronden. Dat is het laatste deel en daarmee de afsluiter van de reeks 'Liberating the Americas' en vormt een epiloog, een terugblik over 24 maanden 'on the road'. Deel 11 uit de reeks heeft als titel 'The great esape' en ligt nu in de winkel.
Daarna komt de focus helemaal te liggen op het schrijven van een boekje. Ik heb inmiddels veel tekst gemaakt en de eerste redacteur is dat nu aan het verwerken. Van de eerste opmerkingen heb ik geleerd dat ik nog veel te doen heb.
Het is lastig om twee jaar 'on the road' te vertellen. Ik maak daarvoor een fotoboek. Dat brengt hopelijk wat structuur in de losse flarden die ik zo hier en daar uitstrooi.
De foto bij dit bericht is gemaakt door Longway Dany (www.daninviaggio.it) in Nicaragua. Hij ging die dag weer verder naar het noorden. Ik bracht hem naar de grote weg vanuit de wirwar van straatjes in het oude, koloniale centrum van Granada. We zijn hier al op de grote weg vlakbij Masaya richting Managua.
Nogmaals,
Fijne feestdagen
Happy Xmas
Feliz navidad
jan gerben