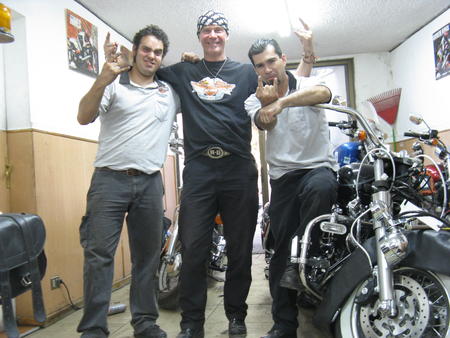 Santiago, Chile, february 8th 2010
Done a lot of work on the bike last two weeks. Could have been done in a week, but I was too upset to leave. Upset about all the emotions leaving my girl behind and then she got in all kinds of trouble which I don't like happening to her. La Casa Roja is a excellent place to stay then. The staff treats me like the lost son who returned. Also I could do some wrenching at the Harley place. altough getting there took some time. The bike broke down in the middle of Santiago. Had no tools with me, had to pick them up by taxi. The spark coil was loose so the wires were broken. Fixed that with sheetmetal the guy from the littleshop who took intrest made for me and some iron wire to fasten the coil again.The bike started at first kick, yeah!
The two mecanics, Claudio-middlename-Hope and Miguel are just the sweetest guys I could have found to do my wrenching with. After they closed we rode three up trough the city, sweet & very cool! I try to realise every day but after returning from Hope's birthday party late at night on saturday, it dawned so strong on me how fortunate I am. Diana waits for me to come home in Medellin, people who treat me so nice like the lost son, the bike running sweet through these wide streets as if she's born here and acting like the little charmer she is, even at two o' clock at night we have a chat with the cab drivers.
Tomorrow I'lll leave Santiago. On my own. August changed his plan. From here I'll go to Pucon and then across the Andes, dirt roads, to Bariloche (Argentina). There I hope to meet up with Marcus. If I do, we'll probably go -together again, yeah!- to Buenes Aires. If not'll have to make a decision about going all the way south or not.