Archive for July, 2010
Thursday, July 22nd, 2010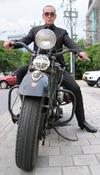 <!– @page { size: 8.5in 11in; margin: 0.79in } P { margin-bottom: 0.08in } –>
Medellin, july 22th 2010,
It's dry when I ride up to Ken & Carol's hostal. An Australian couple. Great people. Sold everything at home to travel. Ontheir BMW GS from 1982 they clocked more than 700.000 km. This is their second RTW (round the world) trip. We met through an common bike acquintance I met in Buenos Aires. They are not finished yet with their maintenance, so we go by taxi to Pueblito Paisa. This is something like a small open air museum. The location is spectacular. On a hill with a viewpoint where you can see almost the entire city. Especially at night time. The city laid out with milions of lights. The city growing from out of the valley onto both sides of the mountains.
That day I had a rather unpleasant police check. My first unpleasant one in Colombia. I mada a mistake. Made a u-turn where it's not allowed. No excuse, just about everybody does it there, good point to do it. The police officer wants to see my papers. No problem. I carry a lot. He takes them with him. Says it's gonna be a fine for me. He takes his time. I talk on the cellphone, like I'm calling my lawyer. He comes back. He want a souvernir from my country. Like some money. Aha. Souvenir a code word for a bribe? Don't kno. I say I don't have any. I pull out my wallet rather exagerated. Makes him nervous. The other cop looking? He backs off. Gives me my papers. I promise to not do it again.
This is in my head when I pull up to the hostal. Inside it's quiet. The other guests are out. A quiet, relaxed family atmosphere place. Owner lives next door. It reminds me a bit to the hostal I got robbed at in Lima, Peru. When Carol asks if she can guard some things in her room I say no. Take it with me.
In the taxi I sit up front. I pay but the cabdriver hasn't got any change. If you don't pay almost exact it is you who has to find a solution. So I exchange some money here and there. Get distracted. Get out of the car. After a minute or so I realise my rugsack is still in the taxi. I run back but the txi has gone. I want to believe in honesty so I wait for him to return. I wait and I wait. Nothing happens. All my original papers are in it, my photocamera, some Traveller Cheques and a sweater. How stupid can you be?
The nex day I look through the video images of the guard station from the entrance. The taxi is still not identifiable. Too much glare on his license plates. The garbage cleaners haven't found anything. There's also an police camera there. We have to wait for permission to see those images. We, that is Diana and me, go back to the city center. To the Dutch consulate. Her phone rings. Somebody want to speak to Jan Gerben. That's me, so I take the phone. The guy says he ha my papers. Found them. We agree to see each other nearby a metro station. We jump in a cab (hey, what else can you do, can't shoot them all) and go the station. The guyis youngster. He found them when bicycling from his nighttime job. It feels a bit strange. But, all my papers are there. The camera is missing, but ALL my papers back! I pay the guy a finders fee. Happy as happy can be. On closer inspection I miss also half of my Traveller Cheques. Hen realization comes in. The guy found it, at night, on the side of the road. That night it thundered and rained like I've never seen before. All my papers and razorthin ultrcheap rugsack are very dry. The guy is probably a friend or nephew of the taxi driver. Well, that's the way is. I got my stuff back.
The last coupleof weeks sharpened also my plans for the near future. I will be back in Holland probably mid september. I'm running out of money. Bills at home aren't paid for. My visa and bike permit expires in september. Time to go back and hopefully make some money. In the meantime I'll be working hard on my book. Been writing a lot. Like it. Now my credit card has been blocked and the company say's it's final I feel a little bit like a Van Gogh, very productive artistically but not a dime to spare. Talking about art. It's annual international poetry festival of Medellin. I ride my bike almost into Jules Deelder. One of my hero poets. He's here with Tom and Mike, camera and sound, to do a documentary on the festival and Pablo Escobar. What a coincidenc. I moved to the 'barrio' La Maerica. Didn't have the money anymore for the apartment. Moved in with family. Nice part of town, closer to the enter, just a few blocks away from where Pablo was shot by the army. The house is still dead empty. With Jules, To & Mike I drink a beer. All around the table, a beer ans a smoke, talking life & music, man, it's feels like I'm almost home.